Dressing up for the extraordinary "Barbenheimer" double feature can be a delightful and imaginative experience. Embrace the spirit of both films and create outfits that pay homage to the vibrant world of Barbie and the weighty drama of Oppenheimer. Here are some Barbenheimer outfit ideas to spark your creativity:
Barbie Chic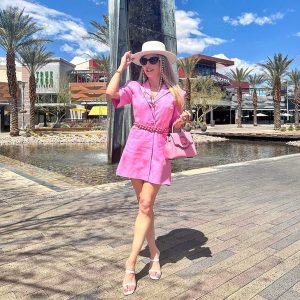 A pink dress or jumpsuit, channeling Barbie's iconic color palette.
Accessorize with playful and oversized statement jewelry, reflecting Barbie's bold fashion choices.
Complete the look with heels or stylish sandals to exude Barbie's elegance and glamour.
Consider adding a touch of sparkle with glittery makeup or nail polish.
Oppenheimer Classic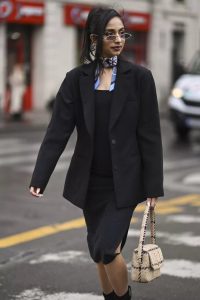 Opt for a sleek and sophisticated outfit, such as a tailored blazer paired with tailored trousers or a chic midi dress.
Keep the color palette neutral, with shades like black, navy, or gray, to capture the film's serious and dramatic tone.
Minimalist accessories, like a classic watch or simple necklace, complement the refined look.
Choose comfortable yet stylish shoes, as you'll be spending a whole day in the cinema.
Barbie-Inspired Casual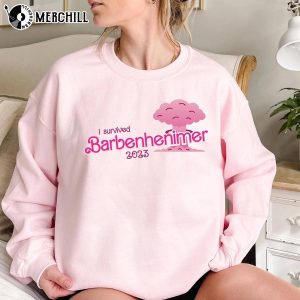 A Barbie-themed graphic tee or sweatshirt paired with denim jeans or shorts.
Sneakers or cute flats for a comfortable and playful touch.
Accessorize with Barbie-themed hair accessories or a fun handbag that reflects Barbie's world.
Oppenheimer Timeless Elegance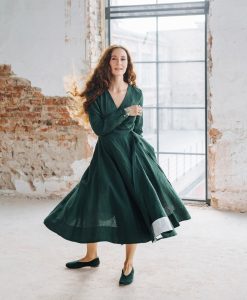 A flowy midi dress in a sophisticated color, such as deep burgundy or emerald green.
Classic pumps or elegant sandals to elevate the look.
Subtle jewelry like pearl earrings or a delicate pendant necklace adds a touch of refinement.
Barbenheimer Blend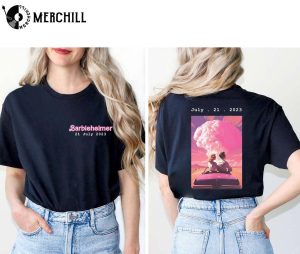 Combine elements from both Barbie and Oppenheimer for a unique and eclectic ensemble.
Mix Barbie's playful colors with Oppenheimer's polished style, creating a stylish fusion of both worlds.
Experiment with layering different textures and patterns to create an eye-catching and innovative outfit.
Movie Lover's Statement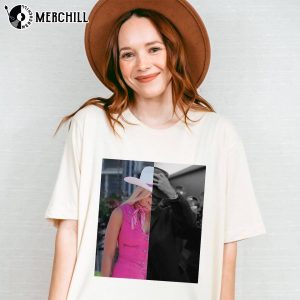 Wear a T-shirt or sweatshirt featuring "Barbenheimer" artwork or graphics to showcase your enthusiasm for the event.
Pair it with comfortable bottoms like leggings or shorts for a laid-back and relaxed look.
Sneakers or stylish flats provide comfort during your cinematic adventure.
Remember, the key is to have fun and express your excitement for "Barbenheimer" through your outfit choices. Whether you lean towards Barbie's vibrant world or embrace Oppenheimer's elegance, your ensemble will undoubtedly add to the overall magic of this extraordinary cinematic experience.