This weekend promises an extraordinary cinematic adventure featuring dolls and doom "Barbenheimer". Greta Gerwig's vibrant and pink-hued romp, "Barbie," and Christopher Nolan's emotionally profound three-hour epic, "Oppenheimer," will grace the theaters starting this Thursday. Despite their stark differences, devoted cinephiles are dedicating an entire day to immerse themselves in both films. This "Barbenheimer" double feature, once a mere meme, has blossomed into an enticing idea that has already captivated 40,000 moviegoers, seeking to witness both masterpieces in succession.
For the movie industry, this could be a much-needed boost after earlier summer releases failed to achieve stellar box office returns. Additionally, it may serve as a much-required respite amidst the world's escalating temperatures and restive populace. However, we shall divert our musings on existential matters to the eponymous stars of these films.
To embark on the quintessential "Barbenheimer" double feature, one must tactfully plan showtimes, bridge the gap between the films, and prepare for the gamut of emotions they are bound to evoke. As a tip, consider reserving "Barbie" for the latter part of the day.
A Primer on "Barbenheimer"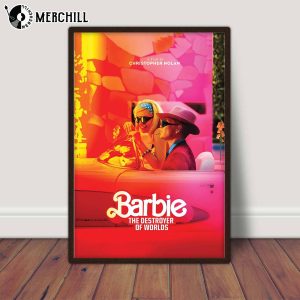 "Oppenheimer" is an intense portrayal of a man whose brilliance led to unprecedented destruction. Spanning over three hours, it demands both mental and physical endurance from the viewer. It holds an R rating, not for violence, but for nudity and language.
In contrast, "Barbie," touted as a comedy, carries an air of mystery, artfully concealed in its trailers. The plot's particulars, like Barbie's adventures in the real world and Ken's rekindling of lost vigor, remain a delightful secret. Greta Gerwig and her cast have teased a range of reactions, from tears to laughter, and everything in between. With a runtime of under two hours and a PG-13 rating, innuendos are to be expected!
Come Prepared
As you embark on this cinematic journey, ensure you come prepared for an unforgettable experience. Begin by selecting the perfect theater that aligns with your preferences. Do you favor cineplexes with reclining seats that offer unparalleled comfort? Alternatively, consider supporting your local independent theater, adding a touch of uniqueness to your day.
Snacks are an essential aspect of the movie-watching experience. While some theaters inspect bags to deter outside food, others do not. Pack your snacks accordingly, or opt to purchase on-site, ensuring you do not miss any previews or Nicole Kidman's monologue at AMC.
Many theaters welcome guests bringing blankets or cozy accessories to enhance their viewing pleasure. Breathable sweatpants prove ideal for prolonged sitting, effortlessly catching stray popcorn and M&Ms throughout the films.
Watch "Oppenheimer" First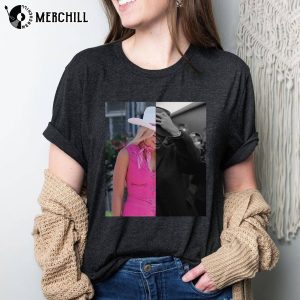 To optimize your experience, commence with "Oppenheimer" to engage with its intense narrative and avoid carrying the weight of mankind's fate while watching "Barbie." The latter offers a lighter viewing, akin to a delightful dessert following a substantial dinner. That being said, "Barbie" undoubtedly stands as a satisfying cinematic experience in its own right.
Follow the lead of Tom Cruise, a box office savior and advocate of post-pandemic theatergoing, who plans to watch "Oppenheimer" on its opening Friday and follow it with "Barbie" right after, surrounded by packed audiences.
Timing Is Key
If you prefer experiencing a film during the day and exiting under the cover of darkness, schedule a late afternoon screening of "Oppenheimer" and conclude with "Barbie" at night. Alternatively, if you opt for a matinee of "Oppenheimer" (often more cost-effective), you can indulge in "Barbie" that same afternoon, perhaps even emerging to sunshine.
Between films, allow yourself ample time to reflect on what you've seen, enjoy a meal with friends, or explore the first film's nuances, especially if it boasts blink-and-you'll-miss-it celebrity appearances.
Mind the Bathroom Break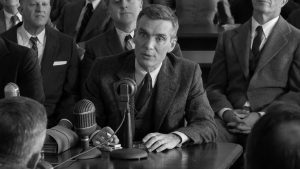 Hydration is crucial, except during a three-hour epic. Visit the restroom before both films to avoid disruptions. This is particularly vital during "Oppenheimer," as Christopher Nolan's riveting storytelling deserves undivided attention. Rest assured, "Oppenheimer's" engrossing sound design will prevent any mid-film slumber, especially if viewed in IMAX.
Remember to use the restroom again between "Oppenheimer" and "Barbie." The latter is more conducive to enjoying an ICEE, so feel free to replenish your snacks during the break.
A Summer of Double Features
Your double feature need not be limited to "Barbenheimer." This summer boasts an array of complementary film pairings. For cliffhanger enthusiasts, pair "Spider-Man: Across the Spider-Verse" with "Mission Impossible: Dead Reckoning Part One." If you crave raunchy humor, "No Hard Feelings" and "Joy Ride" offer a tantalizing duo. For those seeking a blend of prestige and popcorn fare, the Disney "Haunted Mansion" remake and Wes Anderson's meditative "Asteroid City" could surprisingly harmonize.
Sample "Barbenheimer" Itinerary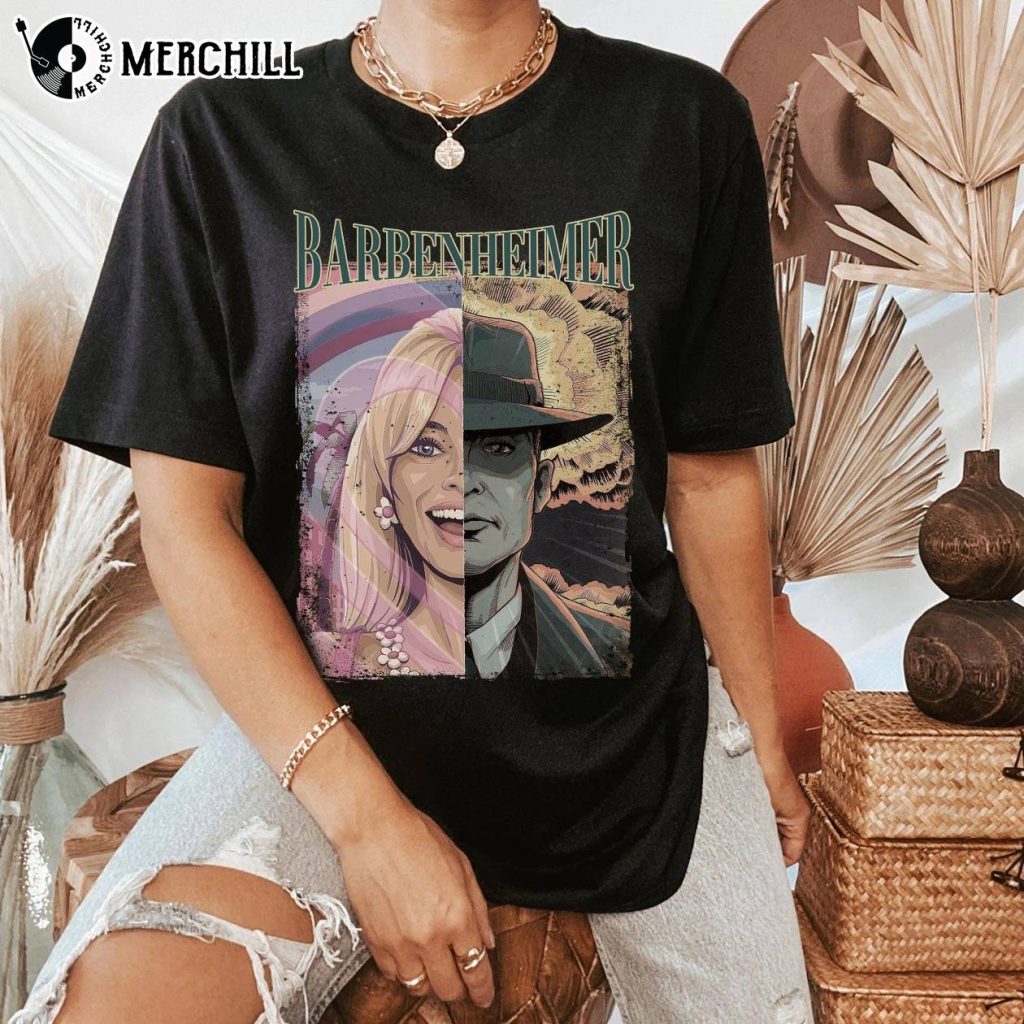 Begin your day with preparations, ensuring you have all necessary supplies like chocolate, a cozy sweatshirt, and your comfiest socks.
10:50 a.m.: Arrive early for "Oppenheimer," with an extra-large popcorn for an immersive experience.
2:30 p.m.: Take time to absorb the impact of "Oppenheimer," revel in Cillian Murphy and Florence Pugh's performances, and perhaps consider a trip to New Mexico. Enjoy lunch and contemplate the fate of humanity.
4 p.m.: Delight in "Barbie," perhaps adorned in pink attire. Invite your "Ken" to join you in this adventure.
6:15 p.m.: Depart the theater, embracing newfound "Kenergy." Consider celebrating with a night of dancing!
In the end, on this momentous occasion of the "Barbenheimer" double feature, don't miss the opportunity to flaunt your fandom by donning the exclusive "Barbenheimer" shirt! Let this stylish attire add an extra layer of excitement and camaraderie to your cinematic adventure. As you immerse yourself in the world of dolls and doom, let the shirt become a symbol of your dedication to this unique movie experience. So, grab your popcorn, settle into your seat, and let the magic of "Barbenheimer" unfold while you proudly wear the emblem of this extraordinary cinematic event.